TRM has designed a range of high quality drives that we manufacture in-house. TRM's drives work in current mode (torque mode) where the input command voltage controls the output current (torque). The drive will adjust duty cycle to maintain the commanded current. This is the most common mode when an external controller is used which can close the velocity and/or position loops. These drives are self contained with a heavy-duty heatsink and a quick and easy mounting system.
---
500 Watts to 2000 Watts (Upto 20 Amps and 100 Volts)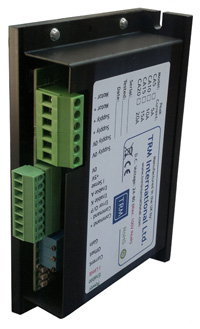 Large input voltage range 24-100 volts
5, 10, 15 and 20 Amp versions available
Adjustable current limit
Adjustable null offset
Adjustable gain control
Enable and Error indicators
Current mode operation (Torque Mode)
+/- 10 volt command signal
Enable High or Enable Low
Built in heatsink *
Mounting via four 4mm slots
Current sense output 0 to 2.5 volts
---
*Whilst the built in heatsink is adequate for most uses, under certain situations it is recommended to use a cooling fan and/or fix to a larger heatsink. If you are in any doubt please contact us for further advice on your application.